Our Story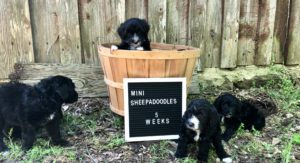 We are obsessed with Doodles! Downeast Designer Doodles was established in 2008 when our families decided that the world would be a better place with everyone owning a Dood! Seriously, could a family ever feel complete without a Doodle? We think not! Our names are Trish + Meg. We are two friends turned breeding partners that are here to serve and help save the world one doodle at a time.
We deliver our designer Doodles nationwide while residing "down east" in Northeast Georgia. We are located in Madison County, Georgia with a partnership of two families located just a short drive from the Bulldawg Country of Athens and the University of Georgia metropolis. We may cheer on the Georgia Bulldawgs (Go Dawgs!), but we believe strongly in the Doodle breed. We are dedicated to producing quality, healthy and family friendly dogs with a focus on temperament and structural soundness. After all, you aren't just getting a pet; but a family member for life.
We know that the quality of each litter derives from the environment and family that surrounds each mama dog. And we love our mama dogs!  We have named our family farm: The Dood Ranch.  We are situated on 20 acres with a beautiful creek, shoals, waterfalls and walking trails surrounding the homestead.  The dogs and puppies get plenty of social interaction, tons of exercise, and lots of time with our kiddos on the farm. That being said; we do have good boundaries in place for our newborn puppies and our children. The health and safety of our children and puppies are always a top priority.
Because environment and a healthy family surrounding each mama dog is so important; we began our Dood Guardian Program in 2016. Allowing Mama dogs the best of both worlds with their families until they deliver and then coming to the perfect safe place to deliver their litters back at The Dood Ranch. This allows us the opportunity to provide the best home raised puppies to your forever home.
We look forward to working with you and providing you happiness with your next family member!