What is a Bernedoodle?
A Bernedoodle is a mix of a Bernese mountain dog and a poodle. A bernedoodle has the best qualities of the Bernese mountain dog and Poodle. Bernese mountain dogs are extremely loyal, cautious, and reserved. They are great with children and gentle, they are also eager to please. Poodles are alert, instinctual, and easily trainable. Bernedoodles can be goofy and clever. Bernedoodles are also known as Bernese Mountain Poo.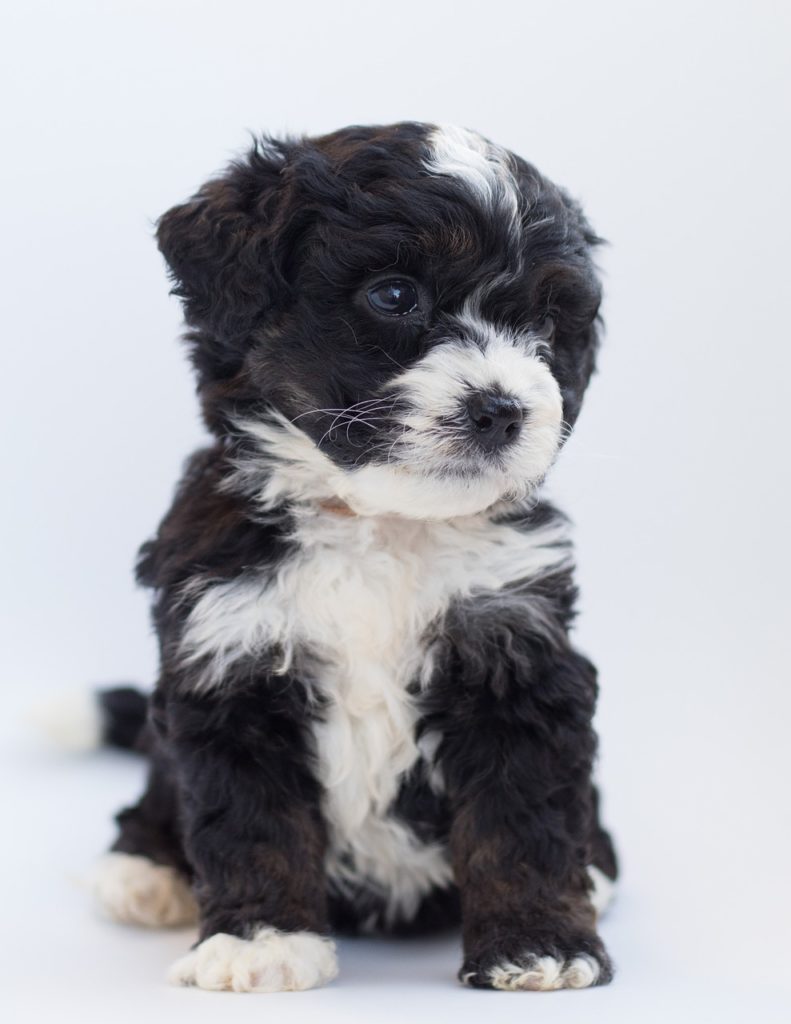 Bernedoodle Temperament
They make the perfect companion dogs and great additions to the family.

They tend to be affectionate with families and are considered to be kid-friendly dogs.

They are especially great with children and the elderly and can make good therapy dogs.

Bernedoodles are very active and playful. They are both curious and gentle.
Bernedoodle Colors and Coat
Bernedoodle coats are very wavy. Straight coats are rare. Their grooming needs are usually low as their fur doesn't shed much. Bernedoodle coats can vary in colors within litters, more than other doodle litters. There is a range of colors, they can be tri-colored, pure black, black and brown, or black and white.
Tricolored Coats (black, white, brown)
Pure Black
Black and Brown
Black and White
Bernedoodle Size
Bernedoodles are typical qualifies as a medium to large dogs. They can weigh anywhere from 69-90 lbs. There are multiple sizes of bernedoodles – tiny, miniature, and standard.
Tiny bernedoodles are about 12 to 17 inches tall and weigh between 10 and 24 pounds. Miniature bernedoodles are typically 18 to 22 inches tall and weigh between 25 and 49 pounds. Standard bernedoodles are about 23 to 29 inches tall and weigh 70 to 90 pounds.
Bernedoodle Health
Bernedoodles have a lifespan of between 12-17 years. The smaller they are the longer their lifespan. Bernedoodles are typically healthy dogs, partially due to their moderate to high activity levels.
Bernedoodles are a fairly new breed of dogs, so not much information is available on their health long term. Common health issues that bernedoodles have include hip and elbow issues, eye problems, and some skin issues. They can tend to be healthier than their parents.

Downeast Doodles has the perfect Bernedoodle to add to your family! Contact us and apply to adopt today!